The L.A.P.D. Culture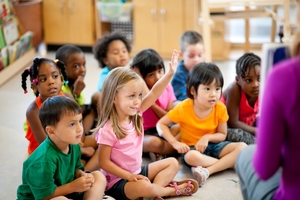 Children learning at Little Angels Preschool Daycare Ypsilanti
Are you searching for a daycare and preschool that not only educates your child in the ABC's and 123's, but also teaches them respect, gratitude, and an appreciation towards diversity?
Are you wondering when our children stopped learning the "Golden Rule" or "Treat others as you want to be treated?"
So much of our culture, especially social media, promotes negative behavior, and that lack of respect for others is unfortunately becoming the norm. Please join us in the effort we call "Changing the world, one child at a time!"
At Little Angels Preschool & Daycare, we insist that our teachers and staff establish good eye contact and shake hands with parents. We believe this is a positive way to show respect for each other, and we want the children to learn by our example.
Our use of Experience-Based Learning will nurture your child's self esteem as they gain confidence in their learning potential. Your child will feel appreciated and treated with respect, even if they behave unacceptably. Read more about our approach to discipline.
We want to be sure that all children feel welcomed and included! Each parent recieved a Child Diversity Questionnaire to fill out during the registration process, and anually thereafter. We encourage parents to fill it out completely. This information can assist your child's teacher in individualizing the classroom's curriculum. It asks about your child's fears and likes, as well as customs and traditions that you have in your home.
Additionally, Little Angels knows that every child is unique. We adhere to the Americans with Disabilities Act (ADA). Providers, children, and parents, all benefit when children learn and play together. Including both children with and without disabilities, attributes to acceptance, improved socialization, and understanding of individual differences. We will make reasonable modifications to our policies and practices to integrate children with differing abilities into our program.
We've been servicing the Ypsilanti, Ann Arbor, Milan, and Saline area for more than 20 years and grown a lot since we began. Your child will gain positive self-esteem, confidence and a healthy sense of value through Experienced-Based-Learning at our daycare center. You and your child will experience the perks of a large professional center, but you'll also see the many personal qualities that a smaller home daycare / preschool has.
Contact us to arrange a visit. You'll be shown our beautiful facility and we'll answer all your questions.
Little Angels Preschool & Daycare is "Changing the world, one child at a time!"