Little Angels Preschool & Daycare Programs
Summer Day Carmp
Mad Scientist
6/17-21/19
We're kicking summer off going MAD for science! Our hypothesis for the week; a super awesome time in the lab creating things like bouncy balls, slime, a hovercraft, parachutes, and even a lemon powered battery.
Planned trips: Hands on Museum ($12.50 additional fee) and Leslie Science Center
Life Skills
6/24-28/19
Cook it! Fix it! Save it! Make it! This is the summer camp you wish you could attend. You will learn life skills and have a blast doing it. In this week's experiences you will explore the food pyramid, learn about finances, practice some sewing and sharpen up on your handy-human skills. You will be challenged to plan, budget, and prepare a nutritious meal. At the end of the week your group will show off these skills with a bake sale.
Planned trips: Grocery Store and home improvement store
Literature
7/1-3/19 *(this week is prorated, we are closed 7/4-5/19)
Time to unplug for a good book! Let's jump into the adventurous world of literature with a trip to the public library where readers will have the opportunity to explore thousands of books, get a library card and even check out some books that interest them. Have you ever read a book and imagined yourself as one of the characters? We will do just that when you dress like your favorite character and share the book with everyone. We will have to work together to write the best bed time story ever to soothe a cranky publisher, Dr. Blotch, back to bed.
Planned trips: Public library and 826Michigan (a local non-profit writing center)
Let's get moving!
7/8-12/19
This week will be all about sports and fitness. We will learn the importance of staying healthy and active. Our favorite sports like soccer, basketball and touch football along with exploring less common sports like disc golf are scheduled. We'll run wild with field day and work together putting on the Little Angels' summer Olympic games.
Planned trips: Local parks and a disc golf course
Art Explosion
7/15-19/19
Young artists will express their creativity and learn some new art skills as we explore the visual arts. After taking in local art we will try our hands with different materials (paint, clay, wire, ect).
Planned trips: University of Michigan Art Museum and Ann Arbor Art Fair
Animals and other living things
7/22-26/19
Young biologists will make discoveries as we study animals and other living things. We'll learn about reptiles, mammals, amphibians, birds, fish, invertebrates and their many habitats. Wild experiences await in the field studies planned.
Planned trips to: Domino Farm (additional $6 fee) and The Creature Conservancy
Let's go camping!
7/29/19 – 8/2/19
Nothing says summer like camping! We will become naturalists and sharpen up on our survival skills as we explore the beautiful outdoors! Campers will be challenged with assembling a tent as well as building their own solar ovens to make s'mores. We will be sightseeing many of our local parks for hikes and picnics.
Planned trips: local parks
Do It Yourself
8/5-9/19
This week we will explore the wonderful world of DO IT YOURSELF! From making our own bath bombs and ice cream from scratch, to re-purposing old and retired materials. DIYers will have the opportunity to build a bird house as well as let their creativity run wild and create whatever they can cook up.
Planned trips: The Scrap box
Water week
8/12-16/19
Slash into fun with water, water, and more water! We will study the water treatment plant to get a better idea of how we have water available to us in our homes! We will visit local parks like Frog Island and explore that ecosystems. The week will end with a trip to Rolling Hills for swimming and fun in the sun!
Planned trips: Water treatment plant, Frog Island, and Rolling Hills ($6 additional fee)
Lights, Camera, Action!
8/19-23/19
This week will bring out the director, actor, producer, singer, and dancer in everyone. You will be introduced to the theater experience using music, dance, and creative games. Parents are sure to enjoy the production put on by our very own Little Angels performers!
Planned trips: TBD
Community Helpers
8/26-30/19
We will end the summer focusing on our community and how we can help make the world a better place. We will spend most of the week out and about in our community giving back! Helpers will make crafts and gift them to senior citizens and adopt a local park for beautification. There are even a few surprises in store where we will get to meet some actual community helpers and experience a day in their lives.
Planned trips: senior center and local park
Little Angels Summer Day Camp Pricing
Base tuition $170/ week (9 a.m. to 4 p.m.)
Before care $10/ week (7:15 a.m. to 9 a.m.)
After care $10/ week (4 p.m. to 5:45 p.m.)
Families must supply a packed lunch. Additional fees for field trips may apply.
When registering your child, a 25% deposit is required (deposit does go towards tuition).
Before and After School Program (Grades K-5)
We offer a before and after school program for children in grades Kindergarten through 5th Grade, who are currently enrolled in Estabrook Elementary School, Ypsilanti International Elementary School, Perry Early Learning Center, Carpenter Elementary School (Ann Arbor), and Ann Arbor Open School. Care is also offered during Ypsilanti Community School and Ann Arbor Public School days off, as well as Summer Camp for all area students, as space allows.
Little Angels school age program is an adventure of exploration, discovery, and imagination. Our summer camp experience offers a balance of learning activities, field trips, water play, special guests, and a healthy amount of play time, allowing students time to explore nature and enjoy the outdoors. As we all remember from childhood, camp is an important time to build meaningful friendships and createl memories that last a lifetime.
Using the Reggio Emilia philosophy, we are developing a unique, project-based approach, promoting the deveopment of the whole child. Our project-based curriculum will develop with the interests of the children and is designed to be impactful and age appropriate for each grade level. It fosters a love of learning that prepares children for a successful school experience. Outdoor exploration will be a key part of our program. Children will be given ample time to be outside to eat, study, and socialize.
Some examples of project work could include an artist study, the management of the garden, or the prooduction of a talent show or play. The choice of the project work is based on the interests of the children. Cooperative projects can take place, as well as individual projects. The role of the teacher is to encourage, support, and provide resurces (experts, research, a "sounding board") for the children.
Ypsilanti Public Schools will bus children between Little Angels and Estabrook, Ypsilanti International, and Perry Elementary Schools. Little Angels will bus children between our facility and Carpenter Elementary School. Ann Arbor Open Students can bus to Carpenter and be picked up, as well.
Breakfast will be provided for before care and snack will be provided for after care. All meals and snacks will be provided for full days.
Please call us at (734) 998-0233 for accurate pricing for our school aged program.
Preschool Programs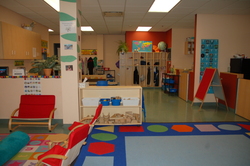 The Preschool Program is for children ages 31 months to 5 years old. The children are currently separated into 4 classrooms based on age and development.
The Preschool Program is exactly what it sounds like. We're getting them ready to go to a "real" big-kid school! We offer varied experiences using an emergent curriculum to give your child a well-rounded education and experience. There are clearly defined "centers". The children are taught to put toys away in the correct place before they get more out. They enjoy many opportunities to practice their language skills, learn how to cut, and hold a pencil.
Children become interested in potty training at this age, and most already are! We encourage them, along with you, to begin potty training when they are ready. We do not push potty training but with consistency on both the parent and teacher's part your child will be successful.
Your child is also forming their personality so we also teach them about integrity, honesty, friendship and appreciation of diversity. The skills they develop will give them more confidence to enter Kindergarten and succeed. We target the expected outcomes of Ann Arbor and Ypsilanti Public School Kindergarteners and make sure each and every one of our graduates are prepared for kindergarten and beyond. We prepare our children to be ready academically, socially, and emotionally, for their first day of school.
Toddler Program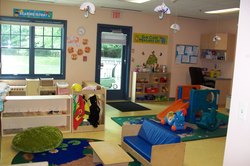 Our Toddler Program is for children ages 18 months to 30 months. The children are separated into 3 classrooms based on age and development.
As with our Infant Program, our Toddler Program teachers have specialized training in infant and toddler care and development. Like the infant program, you will receive a Daily Report. Prior to advancing from the Infant Program, we provide the opportunity for your child to "visit" the Young Toddler Room. Whenever possible, the Infant teacher goes with them to help ease the transition.
Children begin to learn about sharing, walking in a line, taking turns and circle time. Through our emergent curriculum, they increase their socialization skills!
Infant Program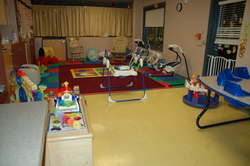 The Infant Program is for children from about 6 weeks to about 18 months old. The children may be separated into three or more classrooms, based on age and development. We recognize that every child is unique and has their personal needs and routines. We work with you to support and develop your child's daily routines. We provide a "Daily Report Card" to provide feedback regarding your baby's growth and development. This provides specific details on the times your child is fed and when, and whom, changed their diaper. The "Daily Report Card" helps everyone communicate for your child's benefit.
At pick up, we make time for a detailed conversation about your child's day. Our Infant teachers have education and experience specifically for this age group, including specialized training in infant care and development. Our teachers not only feed and diaper your babies, but they LOVE them, and it shows!
Schedule a Tour of Little Angels Preschool & Daycare Today!
We've been servicing the Ypsilanti, Ann Arbor, Milan, and Saline area for more than 20 years. Your child will gain self-esteem, confidence and a healthy sense of value through emergent curriculum at our daycare center.
Do you know of a parent looking for a quality daycare in Ypsilanti or the surrounding areas? Please encourage them to contact us to schedule a tour of Little Angels Preschool & Day­care.